Brief
Mercator faced an interesting challenge in the summer of 2020. Doritos, a brand of tortilla chips, arrived on the Slovenian market and was exclusively sold by Mercator upon its arrival. So how could we inform young people about the new product on the shelves of the largest retailer in Slovenia?
Solution
We introduced Doritos tortilla chips to young people on Instagram and on a newly created profile on TikTok. Mercator became the first Slovenian retailer with a presence on this social network.
Services
advertising campaign on social media
creating and managing the TikTok profile
designing Instagram filters
advertising on social media
Project description
The main goal of the campaign was to inform the public about the new product on the Slovenian market in a fun way, relatable to young people on media they follow. The El Champion del Doritos campaign marked two milestones: the arrival of Doritos tortilla chips on the Slovenian market and the creation of the Mercator Slovenia channel on TikTok.
The campaign was implemented on Instagram, TikTok and, in the last phase, on Facebook as well. We recorded videos and posted them on Mercator's TikTok profile with the help of Slovenian TikTok influencers, showing the challenge that users had to complete to participate in the prize game. Everyone who completed the challenge and published it on their profile participated in the weekly draw to win a JBL speaker.

In the context of the Instagram activation, we designed six Doritos Instagram filters that users used to participate in a prize game. Each week, we drew a lucky winner of a JBL speaker from everyone who used the Doritos filter. We also involved micro-influencers in the campaign, who presented Doritos tortilla chips and filters on their channels.

In the end, we drew six participants from those who attended the event on Zoom - the finals of the El Champion Del Doritos. At the event, the six participants competed in six challenges, and the person who won the most challenges won it all: a Doritos party pack and a JBL Boombox 2 speaker.
TEAM
Project manager: Tilen Erjavec
Content manager: Ana Pišot
PPC account manager: Matej Sever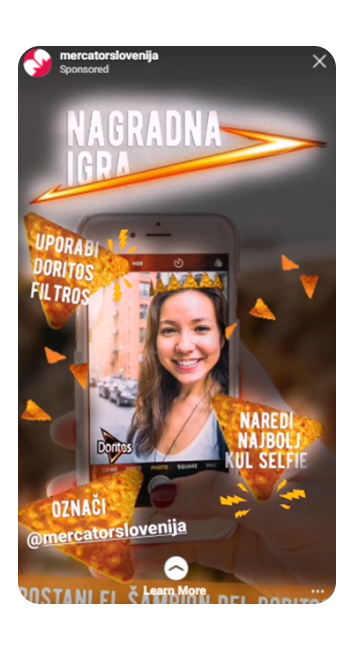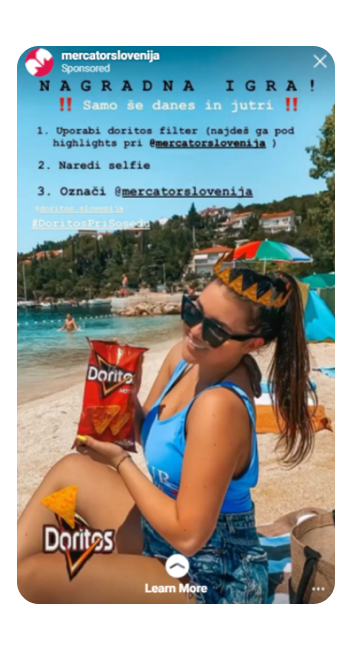 Facebook and Instagram users reached in the 16–26 age group
views of videos with Doritos content
More of our work
Clients
2TDK Adria Tehnika AMZS Atlantic Droga Kolinska Biogen Pharma Don Don Grosuplje Dravske elektrarne Maribor E3 Elektro Gorenjska Elektro Ljubljana