Brief
Two new flavours joined the Ego Slim & Vital family of yoghurts, which help with fat digestion. Ego yoghurts are known for their unusual flavours, and the Ego Slim & Vital sub-brand is no different. Ego is fun and playful and so is its communication. Even when we talk about a delicate topic, we do so in a fun way. Through our communication, we want to highlight the two new flavours and the fact that caring for our bodies is important but not something to be intimidated by.
How could we make something unpleasant, such as stepping on a bathroom scale, feel fun and, at the same time, introduce the two new flavours of the product?
Solution
The answer to our question was to approach this topic in a fun way. We designed a website that proves that life with Ego Slim & Vital yoghurts is simply lighter. It's a life in which 'stepping on a bathroom scale' is given a whole new meaning.
Services
website (lazjetibo.si)
TV ad
online advertising
activation on social media
Project description
Visitors to our website were greeted by a virtual scale, which encouraged them to share with us their secret number – the one displayed on the bathroom scale in the morning. We surprised all who were brave enough to share with an encouraging message or a 'light joke' told by comedian Sašo Stare via video message. The joke was free-of-charge – to raise courage and mood. However, if they shared it with friends on social media, they became eligible for a prize contest for 'light' prizes, and winners were drawn each week. All in all, we can say: Ego 1, scale 0.
TEAM
Copywriter: Rok Artiček
Project director: Arin Čebokli
Creative director: Uroš Goričan
DTP: Milko Pečanić
Artistic director: Blaž Pintar
Digital strategist: Mili Šprajc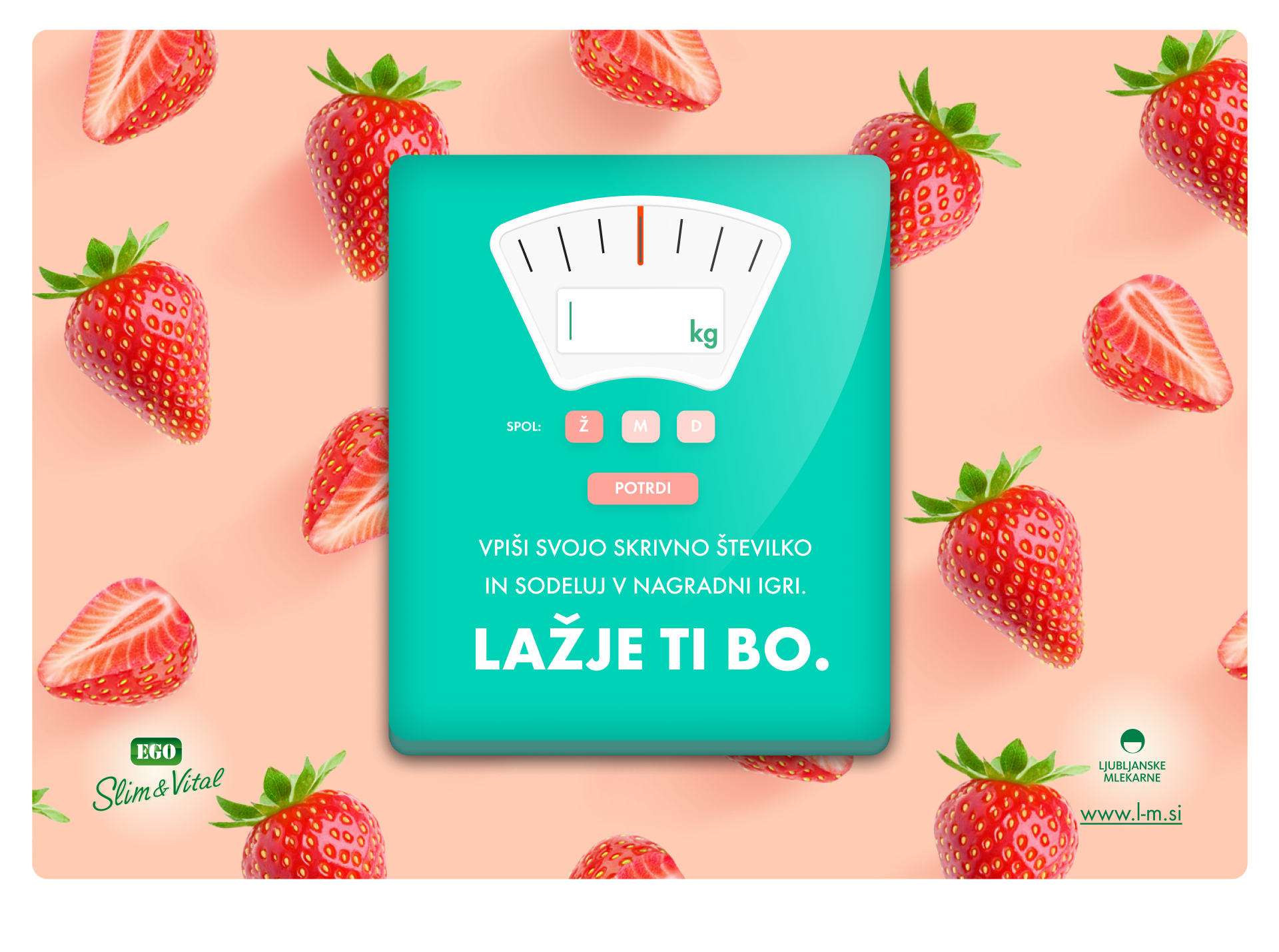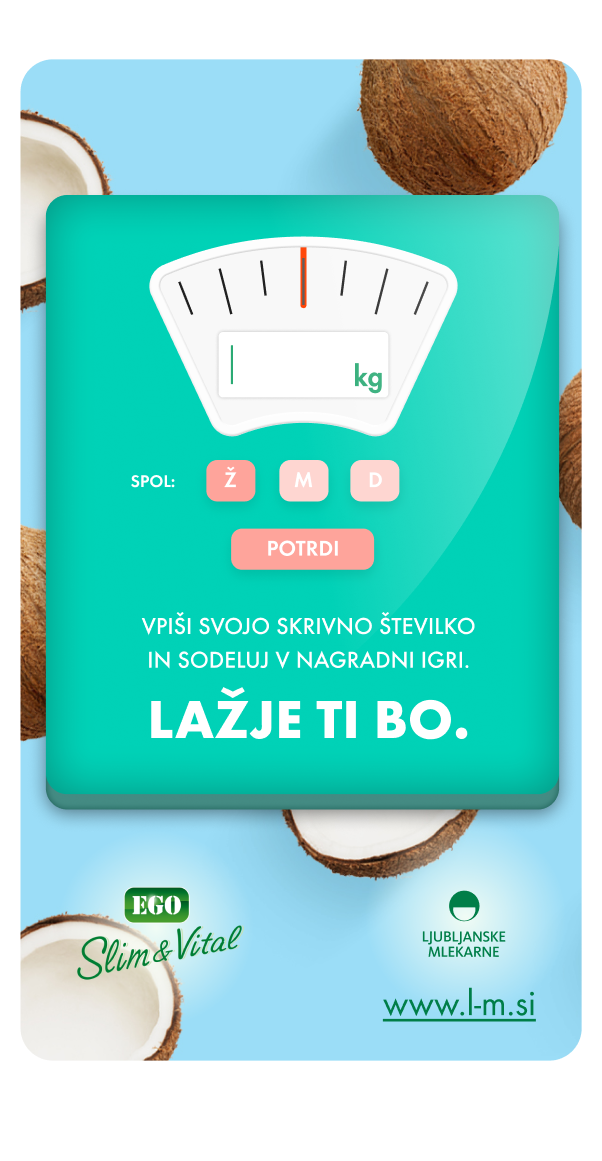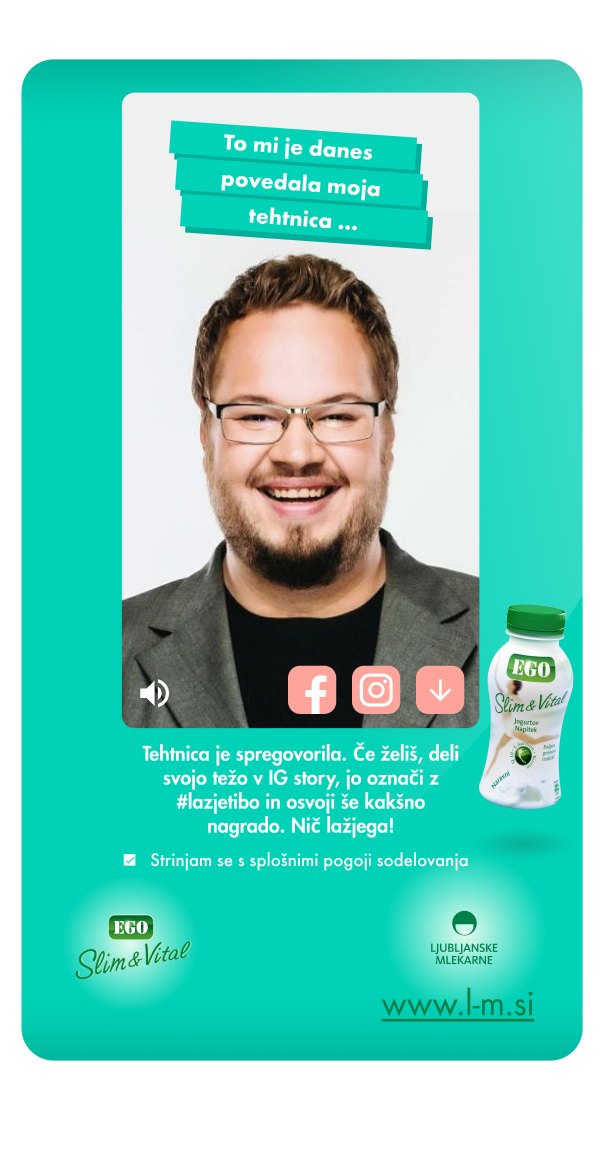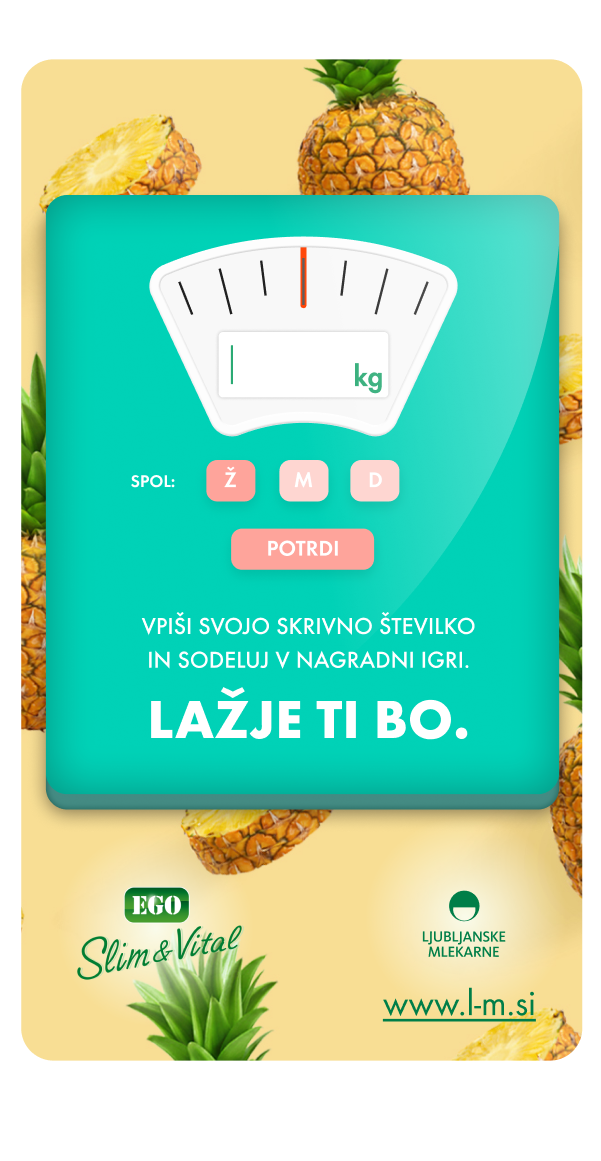 unique users on the website in 21 days
activation reach on Facebook
total impressions on Facebook
More of our work
Clients
2TDK Adria Tehnika AMZS Atlantic Droga Kolinska Biogen Pharma Don Don Grosuplje Dravske elektrarne Maribor E3 Elektro Gorenjska Elektro Ljubljana