Brief
During the Easter holidays, ancient traditions are revived, and families gather to enjoy each other's company. They decorate Easter eggs, hunt for hidden treats and, in Slovenia, weave colorful straw bundles called butare. How can we creatively link the Easter celebration with Mu Cuisine dairy products?
Solution
We took the Easter Bunny for a stroll around social networks, where he hopped over Mu Cuisine products. Anyone who caught him, in addition to marveling at his agility, also took part in a draw for a Big Easter Prize. And when we say big, we mean BIG!
Services
engagement on social networks
online advertising
Project description
The Easter Bunny was born of Herman's colored pencils and enticed random "passers-by" (in the virtual sense) with his technicolored apron, curious eyes and long ears. Hop, hop, hop—even when out and about he was always well-groomed!
Everyone who saw him wanted to take a photo of him and enthusiastically paste their photo in the Comments section of Mu's Facebook profile. The Easter Bunny himself selected a few lucky participants and richly rewarded them. Mu is there to ensure that Easter cooking will always be a bundle of fun. Happy holidays! And, in anticipation of next year, let's hop to it!
TEAM
Creative Director: Miha Bevc
Artistic Director: Gregor Čefer
Copywriter: Maj Kelenc
Assistant Project Manager: Anja Mitrovič
Designer: Milko Pečanič
Copywriter: Tjaša Podojstršek
Digital Strategist: Nina Tanhofer
Project Director: Andreja Veršič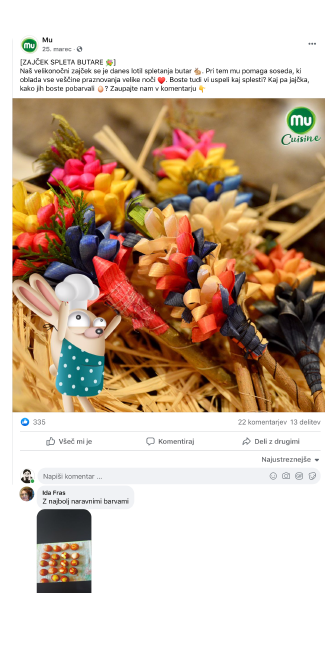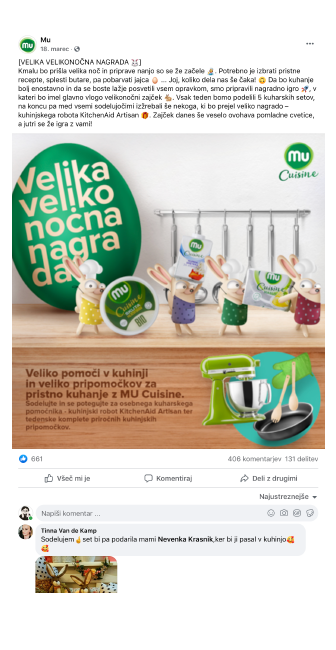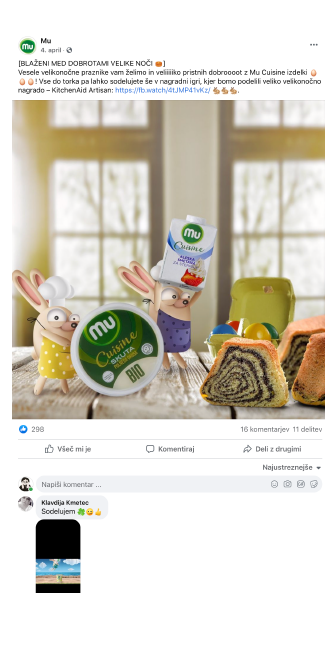 impressions of campaign posts
photos of the Easter Bunny captured
More of our work
Clients
2TDK Adria Tehnika AMZS Atlantic Droga Kolinska Biogen Pharma Don Don Grosuplje Dravske elektrarne Maribor E3 Elektro Gorenjska Elektro Ljubljana